Experiencing electricity blackouts as a child inspired Dr Uzma Hira's mission to find solutions to Pakistan's energy crisis
Around 30% of Pakistan's population have no access to electricity. For those who do have access, it is unreliable. A combination of a fragile power infrastructure, economic growth, and increased demand leads to frequent power shortages.
But Pakistan is a country with high renewable energy potential.
According to the World Bank, utilising just 0.071 percent of the country's area for solar photovoltaic (solar PV) power generation would meet Pakistan's current electricity demand.1 However, reaching Pakistan's renewable energy target of 30% by 2030 requires significant investment and sustained effort by the federal and provincial governments, and development partners.
Investigating thermoelectric power generation
The opportunity to transform Pakistan's energy mix is inspiring the work of physical chemist, Dr Uzma Hira.
"I'm from a very remote area of Pakistan and I remember I used to do my school homework at night by lantern during electricity shutdowns. Since childhood, I had questioned how I can resolve the issue of energy crises in my village and this thinking motivated me to pursue my career in science."
Uzma is assistant professor of physical chemistry at the University of the Punjab in Lahore. She currently leads the Pakistan Functional Energy Materials research group.
"The search for new renewable energy materials for the continuous supply of energy without producing any pollutant emissions and disturbing our planet is a constant source of motivation.
"My research area includes designing new functional renewable energy materials for harvesting waste heat into electricity production through thermoelectric technology. Currently, climate fluctuation, increased pollution and the demands of a burgeoning population are the main issues associated with the global energy crisis. Therefore, I have selected this research area for developing effective renewable energy resources for the continuous supply of energy."
Powered by perovskite
Uzma recently collaborated with Heriot Watt University in Edinburgh and the Alba Synchrotron light facility in Barcelona to study the crystal structure and thermoelectric properties of perovskite materials.
Perovskites are the most abundant kind of mineral on earth. Over the last decade or so, scientists have been studying its potential use in sustainable, solar cell technologies.
As a material, they have many advantages over conventionally used alloys for energy harvesting. Perovskite oxide, which Uzma studies, has a diverse structure, is thermally stable at high operating temperatures and has a low fabrication cost.
"The use of perovskite materials for thermoelectric applications is more exciting due to their crystal structure. Many cations of the periodic table can sit in the crystal structure without distorting it and we can tune the electrical conductivity, thermal conductivity and thermopower of the thermoelectric material," Uzma explains.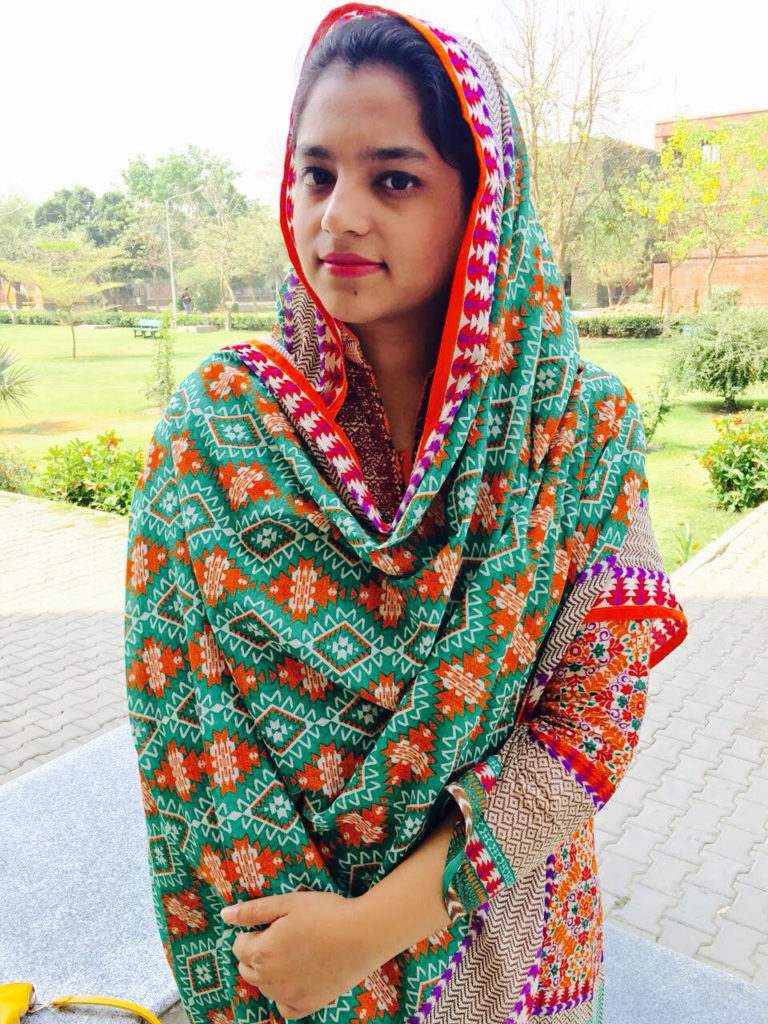 A safer alternative to burning fuel
Access to sustainable, affordable, clean energy for every Pakistani home is what Uzma hopes her research will lead to. Women and children, in particular, are exposed to household air pollution (HAP) from burning wood, coal, charcoal and kerosene – for cooking and heating the home. This can cause disease and premature death.
One third of the global population use dangerous and inefficient cooking systems. The World Health Organisation estimates that in Pakistan about 30 deaths per 100,000 people are attributable to indoor air pollution, while about 25 deaths per 100,000 are attributable to outdoor air pollution.
"I am working with other collaborators from the UK and Pakistan on a research project ­– 'Clean cooking and electricity through E-Stove' – funded by the British Council.
"We are trying to use thermoelectric modules for clean cooking and the idea behind it is to capture waste heat produced during cooking on the E-stove and transform this waste heat into electrical power. This electricity production will be enough to charge mobile phones, a wrist watch, laptops and light a bulb," says Uzma. The E-stove would be a game-changer for people who rely on open fires and inefficient stoves.
In 2021, Uzma's research was published in the journal Inorganic Chemistry.2 It also earned her a prize at the 2nd Commonwealth Chemistry Posters event. As an early career researcher, the posters event gave Uzma a valuable platform for presenting her work to an international audience.
"I got the opportunity of networking with the scientific community […] and discussed research ideas for how we can implement our research for the betterment of society. I also got a chance to have a look at high quality research work in the field of materials and energy of other participating candidates through poster session," Uzma says.
With the prize money, Uzma plans to develop new compositions of renewable energy materials for practical applications.
1 https://www.worldbank.org/en/news/feature/2020/11/09/a-renewable-energy-future-for-pakistans-power-system#
2 Hira U, Bos J-W, Missyul A, Fauth F, Pryds N, Sher F, 'Ba2-xBixCoRuO6 (0.0 ≤ x ≤ 0.6) Hexagonal Double Perovskite-Type Oxides as Promising p-Type Thermoelectric Materials', Inorg. Chem. 2021, 60, 23, 17824–17836.
Learn about our other prize-winners from our annual Commonwealth Chemistry Posters events
Or register to receive regular updates about Commonwealth Chemistry activities