Alejandra Palermo
UK

Ale is a chemical engineer with a PhD in materials science. Her independent academic career began as an assistant professor in Argentina, before joining Cambridge University under a Royal Society Visiting Fellowship. Ale has published over 50 scientific papers in the field of heterogeneous catalysis and, since joining the Royal Society of Chemistry in 2002, a number of influential policy reports.
Currently, Ale leads external relations and inclusion and diversity at the Royal Society of Chemistry. Previous roles include developing and managing the organisation's work in India and Latin America, and the setting up and management of the Pan Africa Chemistry Network. Ale also led Future of the Chemical Sciences, a strategic initiative with the aim of guiding the development of the Royal Society of Chemistry's long-term strategy.
Ale is an FRSC, Life Fellow of the Chemical Research Society of India, Fellow of IUPAC and Honorary Fellow of the Chemical Society of Ethiopia.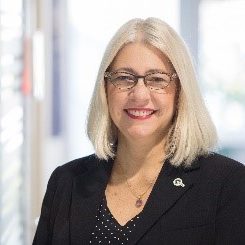 Sarah Thomas
UK

Sarah completed her BSc in chemistry at Warwick University in 1983. She then worked for one year for a biosensor company before beginning her PhD at the University of East Anglia (UEA) with Richard Stephenson.
Having graduated from the UEA in 1990 she moved to Australia, where she spent three years at the John Curtin School of Medical Research at the Australian National University in Canberra.
Sarah joined the books department of the Royal Society of Chemistry in 1995 and shortly afterwards became an assistant editor on Chemical Communications. Sarah was later promoted to deputy editor of the journal and, in 1999, editor, a position she held for ten years. During her time in publishing Sarah was also the editor of Chemical Society Reviews, New Journal of Chemistry, Molecular BioSystems and Annual Reports.
In 2009 she began a new role in international development and is currently Senior Programme Manager, International Engagement, working with international partners to deliver programmes and events to drive international networks and collaborations.
Rachel Thompson
UK

Rachel completed her BSc in biochemistry and zoology at the University of Leeds in 2008 and, as part of her degree, spent a year living and studying in Spain. 
Rachel joined the Royal Society of Chemistry in 2008 and has held a number of roles including conference development, and grants and awards before moving to the events team in 2010. In 2012, Rachel was promoted to Senior Events Executive. 
Alongside Sarah, Rachel oversaw the delivery of the 7th EuChemS Chemistry Congress that took place in Liverpool in August 2018. In January 2020 she began a new role in the external relations team as Programme Manager, Commonwealth Chemistry.