How a passion for the Passerini reaction is fuelling one Nigerian researcher's creativity in the lab.
Within modern drug discovery, there is a drive to find greener ways to turn molecules into medicines. Scientists design and test tens of thousands of molecules to see which ones have beneficial effects against diseases and symptoms. A resource-intensive process, drug discovery and manufacture is a major contributor to the climate crisis. It produces more greenhouse gas emissions than the automotive industry,1 and pharmaceutical pollution is contaminating water on every continent.2
The shift towards more sustainable chemical processes used in the manufacture of medicines includes using greener solvents, less energy, and reducing hazardous waste.
At Rhodes University in South Africa's Grahamstown, PhD student, Sodeeq Aderotimi, is working on creative approaches to address some of these issues.
"Over the last two decades, the world pharmaceutical industry has undergone profound transformations, searching for new drugs," says Sodeeq. "For this purpose, most pharmaceutical companies invested heavily in the development of new drugs. But modern drug discovery is faced with the challenge of designing chemical reactions that are highly capable in providing most of the elements of structural complexity and diversity with minimum synthetic steps for the target with interesting properties. As a result, our motivation is to find new reactivity, reagents, and catalysts that will allow synthetic chemists to build reaction sequences to access molecules of any complexity."
Exploiting a one hundred-year-old reaction
Sodeeq's PhD research focuses on a more sustainable isocyanide based multicomponent reaction. His goal is to identify new sustainable routes toward multicomponent reactions that involve isocyanides and isothiocyanates (highly versatile reagents), and apply them to new heterocyclic compound synthesis.
The Passerini reaction is a chemical reaction involving an isocyanide, an aldehyde or ketone, and a carboxylic acid to form an α-acyloxy amide. It was discovered in 1921 by Mario Passerini and plays a central role in combinatorial chemistry: synthetic methods that make it possible to prepare a large number of compounds in a single process.
The need to make complicated molecules in a cost- and resource-efficient way inspires Sodeeq's work and undergraduate teaching.
"Passerini reactions are performed in an organic solvent such as dichloromethane or methanol (CH2Cl2 or MeOH), which are toxic and carcinogenic, and it can take 24 hours or more for completion," says Sodeeq.
"Apart from the waste and inconvenience, this also makes it impractical for use in a typical three-hour undergraduate laboratory session. In an attempt to find conditions, we could use to introduce MCR [multicomponent reaction] methodologies to our undergraduate classes, we substituted the organic solvent with water. Surprisingly, the Passerini reaction was completed in 15 minutes and excellent yields were observed," Sodeeq continues.
"This method is significantly greener than the classical Passerini reaction because water is an ideal non-toxic, non-flammable, environmentally friendly, cheap, and readily available solvent. It is evident that the possibility of using water as a green solvent for organic multicomponent reactions is in the spotlight of many research groups."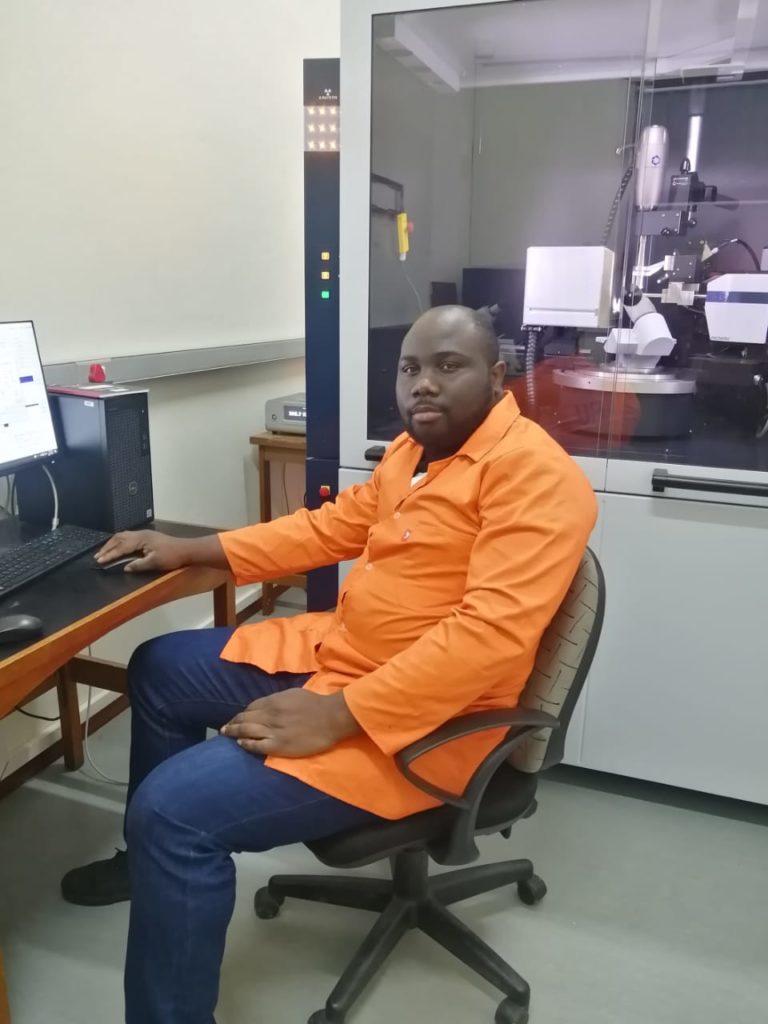 A determination to succeed
Born in Iwo in the Nigerian state of Osun, Sodeeq has had to overcome many challenges to reach this point in his career.
Growing up, he realised he had to fend for himself if he wanted to succeed. He was just 16 when his father died of a severe illness in 2006. His mother had to take on additional responsibilities while also keeping the family together – Sodeeq has a younger and older sister. He knew that education was the key to a better life.
"I became enamoured with chemistry after discovering that everything I used could be made on a small scale," says Sodeeq. "I began making some of the chemicals we use daily, such as liquid soap, toilet soap, disinfectants, pesticides, paints, and body spray, among other things via the knowledge of chemistry.
"When I finished my secondary school and was ready to go to university, I was advised by some elders that the only way to the top is to do well academically and strive to be the best you could among your peers."
"I pursued my bachelor's degree with zeal, sacrifice, and endurance, and in the end, I graduated as the overall best student in the chemistry department at Kebbi State University of Science and Technology, Kebbi State Nigeria, with a CGPA of 4.37 out of 5.00. Although my results did not result in a job, a professor of chemistry who came to examine my BSc thesis recommended that I be retained in the university where I was educated and the college of education where I served my compulsory one-year national service."
Sodeeq was encouraged to pursue a master's degree in order to secure a job that would allow him to feed his family. But funding was a major concern.
"In 2013, I mustered all of my confidence and was accepted into the University of Ilorin in Nigeria, where you are responsible for whatever you consume in the laboratory, so it is anywhere in Nigeria as a postgraduate student. It got difficult for me at that point until I was persuaded by my supervisor, who recognised my predicament. He assured me that I may use the chemicals and reagents for free in my research. I owe him a huge debt of gratitude.
"Everyone has different challenges; for me, the most difficult is determining who will sponsor me, as it is nearly impossible to enrol in and complete any programme in Nigeria without the assistance of a financial sponsor."
Nevertheless, Sodeeq completed his master's and, after multiple applications for PhD scholarships overseas, received a TWAS-NRF doctoral fellowship.
In 2021, his research won Sodeeq a prize at the 2nd Commonwealth Chemistry Posters. The prize money will help him to buy chemicals and apparatus and attend conferences.
"The award I received from the Commonwealth encourages and motivates me to do more for myself and humanity.
"We are now working on a new green, safe, and efficient mechanochemical methodology to produce spiroheterocyclic molecules. The outcome will, hopefully, be presented at the next Commonwealth poster conference."
1 https://theconversation.com/big-pharma-emits-more-greenhouse-gases-than-the-automotive-industry-115285
2 https://www.york.ac.uk/news-and-events/news/2022/research/global-study-pharmaceutical-pollution-rivers/#:~:text=With%20their%20latest%20study%2C%20the,income%20nations%20the%20most%20polluted)
Learn about our other prize-winners from our annual Commonwealth Chemistry Posters events
Or register to receive regular updates about Commonwealth Chemistry activities